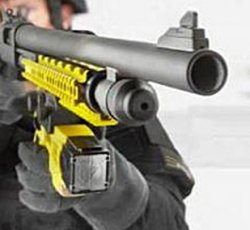 There's a new stun gun in town. It's name is the X12. It will stop you stone cold. The X12 stun gun was launched at the Global Security Asia 2009 event on Thursday and all kinds of law enforcement agencies want in. The X12 fires a jolt wirelessly through the air and can even cut through clothing to paralyze a perpetrator up to 88 feet away.
The product will be available in June, so criminals better shape up by then as geting hit with this thing doesn't sound like a whole lot of fun. Sure, they say "It can penetrate clothing and transmit electrical impulses, causing the body to be temporarily paralysed, unlike conventional stun guns which causes immobility by causing pain." But our guess is it has to hurt to be effective.

That isn't the actual gun. You'll know if you run into the X12.
paralyzes, stun gun, Taser, Weapons, wireless, X12