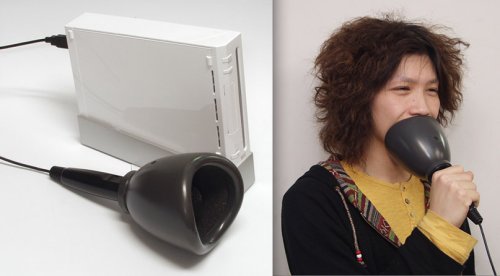 Are your walls paper thin? Driving the family crazy with your voice? Is your singing voice causing your pets to moan and drop dead? No worries. This microphone peripheral named "Urusakunai Kara OK!" (Not Noisy Kara OK!) lets Wii owners sing their hearts out in Hudson's Karaoke JOYSOUND Wii game.
The Wii is known for weird peripherals, but this may be the strangest yet. You may be singing into it, but it looks like you are getting gassed at the dentist's office in the 60′s.

At least others won't have to hear you.
JOYSOUND, Karaoke, Nintendo, weird, Wii