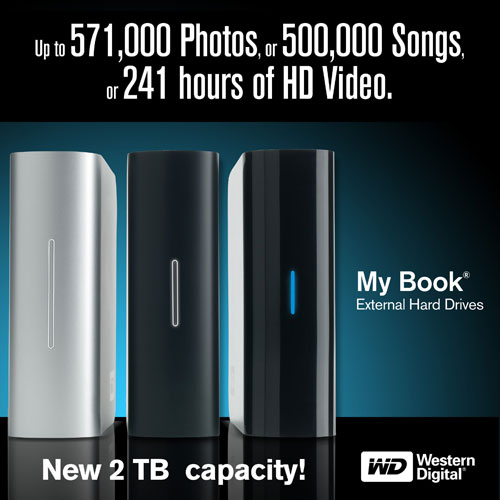 If you walk into a home or office where a computer is, present odds are you are going to find some sort of external storage solution. More often than not computer users resort to USB external hard drives to back up their data and to store files.
Western Digital has announced that its My Book line of external hard drives is now available with 2TB of storage in a single disk model. That means that big storage takes up less space on or under your desk. The new 2TB disk is available in the My Book Studio, Mac Edition, Home Edition, and Essential Edition models.
The Studio and Mac editions are formatted for Mac systems and have FireWire, eSATA, and USB interfaces. The Home edition has eSATA, USB, and FireWire 400 while the Essential Edition offers USB only. All of the drives turn themselves off after 10 minutes of inactivity. Pricing for the new 2TB solutions runs from $329.99 to $379.99.
external storage, Western Digital