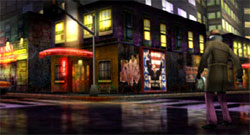 The new movie Watchmen launched last Friday and it looks cool. The movie follows a group of super heroes and the product tie-ins include video games. The iPhone and iPod touch are getting a game based on the movie that is available now.
The game is called Watchmen: Justice is Coming and justice is cheap too at under a buck on the App store. The game offers 3D graphics and is a MMORPG title that lets players fight in a virtual New York City of the 1970′s.
The game is set before the movie events and the servers for the MMORPS game are from Amazon's cloud platform. Players can create their own super hero avatars and take on enemies and adventure through the city.
Apple, iPhone, Watchmen