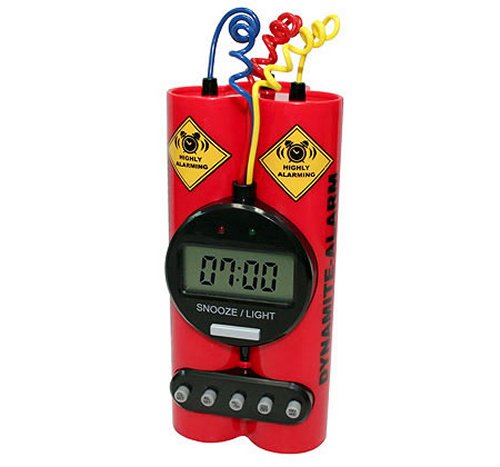 We've seen many alarm clocks that will wake you up in unusual ways. The Wake n' Bacon clock comes to mind. That's because we need some incentive to wake up. Whether you have a hangover or are just dead tired, you need a clock that makes a statement.
Something that says, Get your ass up or I'll blow you to bits. That's what this Dynamite alarm clock does. Wake up every morning and defuse a bomb. And because some of you actually need to be told, this is not the alarm you should take with you while traveling. The manufacturer also advises that you not leave the clock anywhere that it might be mistaken for a real bomb.

The clock runs on 2 AAA batteries, has a backlight display and will cost you $29.68. Do I cut the red wire or the blue wire?
alarm clock, bomb, Dynamite, gadget