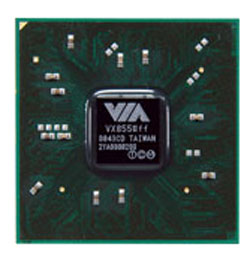 Ask a few people what they think about netbooks and you will get varied answers like "netbooks are great," to "the screen is too small," and "they can't process HD video." Intel tried to address that last complaint with its new Atom N280 processor that with its chipset can decode 720p video. Still, some users want the full 1080p monty and VIA has announced a new media processor that can deliver.
VIA has unveiled its new VX855 Media System Processor and calls it a highly integrated all-in-one chipset addressing key areas for SFF and mobile PC systems. The key areas the new MSP addresses are small size and the ability to hardware decode full 1080p resolution video.
The processor can decode video in H.264, MPEG-2/4, DivX and WMV9 in high bit rates according to VIA. Power consumption is low at 2.3W making the processor appropriate for netbooks with limited battery capacities. VIA also says that the new processor is 46% smaller than competing solutions measuring in at 27mm x 27mm in a single chip package and it replaces the northbridge and southbrige chips.
Media Processor, Netbook, VIA