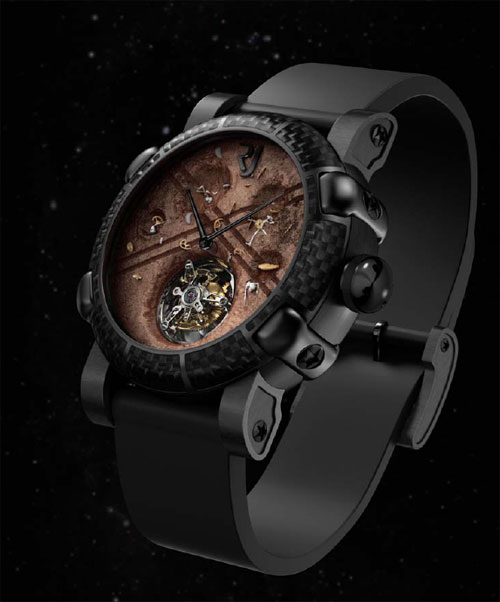 I haven't worn a wristwatch in years, my iPhone is my timepiece of choice and many people are the same way. However, the wristwatch in some forms is still very interesting to me and Romain Jermoe has a new, very limited edition watch that is beyond cool.
The watch is called The Truth About Roswell and is being offering in a very limited edition run of only 9 units. The watch is from the Moon Dust-DNA series and pricing is unspecified, but sure to be expensive. It has mechanical movement and power comes from a winding mechanism. That means it has all those tiny gears and springs inside the case.
The dial is made from a mineral structure including Moon dust and the bezel is carbon fiber with titanium and steel fragments from the Apollo XI spacecraft. I'm not sure what the Paws is, but it is made from rusted steel and melted fragments from the Soyuz spacecraft. The watchstrap is alligator leather with fibers from ISS spacesuits woven in. If you are a rich space geek, this is certainly the watch for you.
space, watch