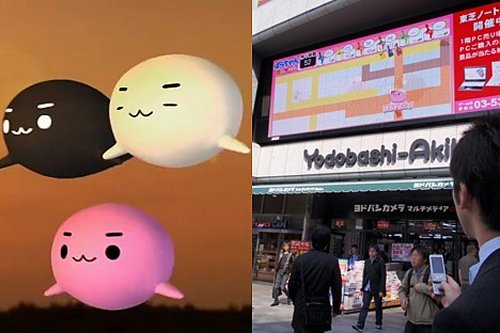 To promote their various laptops and showcase their digital sign technology that uses real-time data over the Internet, Toshiba tested an interactive digital billboard in Tokyo last weekend. YouTube users and passers-by with mobile phones were able to play video games against each other and take a short break from the rigors of city life.
The games were played on a digital billboard above the entrance to the Yodobashi Camera superstore in Akihabara. The games are basically mini-games and involve up to six players in a 90-second race to paint squares on a grid and hunt for Toshiba's cute and cuddly Pala-Chan mascot. Mobile phone players used their number keys to control the game, while YouTube players on computers used the arrow keys on their keyboards. Videos below.

Participating isn't all that instant though. Pedestrians had to call a phone number displayed on the billboard before the start of each game, while YouTube users just clicked a button on Toshiba's toshibanotepc channel.
Akihabara, billboard, Controlled, game, phone, Tokyo, Toshiba