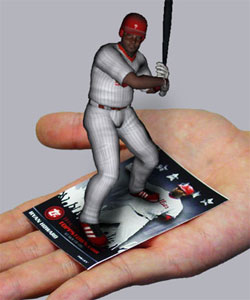 When I was young I spent one summer collecting all of the baseball cards I could get my hands on. Not so much because I really enjoyed watching baseball, but because I found out that baseball cards can be worth big money. Sadly, the year I collected pretty much sucked and now I have all cards sitting around that are worthless.
Topps has a new line of baseball cards that offer something those old holographic cards couldn't imagine. When you hold, the new Series I cards up to a webcam you will see a 3D avatar of the player on the card on the computer screen.
You can move the card around in the camera frame and see the avatar from all directions. The tech behind the cards comes from a company called Total Immersion and the avatars reportedly can be used to play basic games like batting, catching, and pitching. The cards will sell for $2 for a pack of 12.
Baseball Card, Topps