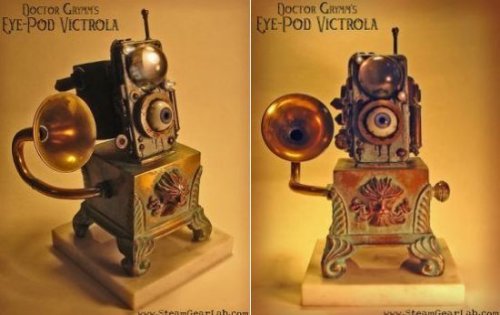 Clearly inspired by Mary Shelley's Frankenstein and created using the first generation iPod nano, this victorian eye-Pod by Doctor Grymm will have you doing a double take. All of the functionality of the iPod remains intact, and the eye-Pod can even be worn on the wrist using a leather cuff, or placed on its custom Victrola dock, made of a brass lamp and bicycle parts.
Forget the scroll wheel, all seeing eyeballs are more user friendly. The base features a Victrola horn that acts as a speaker. To charge the eye-Pod, a USB cable concealed under the base is retracted, or you can use an AC plug.

It might be a tad bulky for your wrist, so best to leave it on the dock.
DIY, eye-Pod, hack, iPod, mod, MP3, steampunk, Victorian