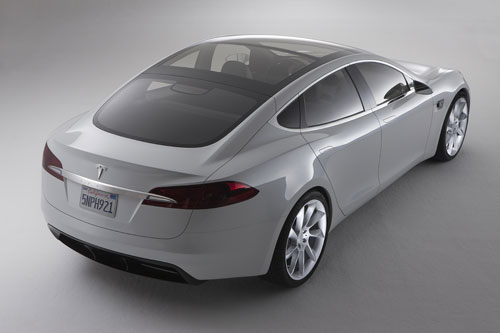 Electric vehicles have a lot of appeal to many drivers. You can charge them from the AC outlet in your home and never have to hit the gas station again. Electric cars are also better for the environment than gasoline and diesel vehicles. The problem is that most electric vehicles lack the range many drivers need in a car.
Tesla, famous for its Tesla Roadster, announced a new electric vehicle called the Model S. Unlike the two-seat Roadster, the Model S is a seven passenger electric vehicle that promises to take all passengers up to 300 miles per charge.
Tesla says that the car can charge from 120V, 220V, or 480V sources and when using the highest power source a full charge takes 45 minutes. The battery pack is placed under the floor and is easily removable to allow for battery trade in stations in the future. The car will sell for $49,900 after the $7,500 tax rebate from the government.
electric car, Tesla