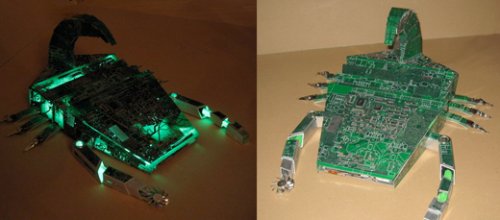 The last time we saw this much circuit board on the outside of a mod, it was my very own Atari-Hero guitar mod. So right away this caught my attention.
Modder Frenkie designed this glow-in-the-dark case mod that features strips of circuit board to give it the scorpion-inspired look. Dubbed Sting, the case features a custom cut PCB boards pattern all over the body. It looks deadly. If you're going to build something, make it stand out and have a life of its own. Make it look like it can sting the hell out of you.

When it glows, you can't help but think it's a mutant scorpion full of radiation in an apocalyptic future.
casemod, DIY, hack, mod, pc, Scorpion, Sting