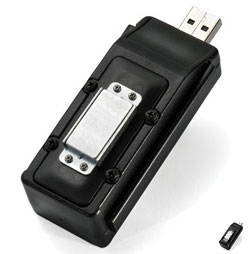 When it comes to kooky and often overpriced gadgets, Hammacher Schlemmer is the place you want to shop. These are the same fine folks that bought worthwhile gadgets like the snowball blaster and the clear canoe.
The company's latest product is one that lets you spy on the driving habits of your spouse, kids or employees. The Driving Activity Reporter is a small device that looks like a flash drive with a magnet on the back of the case. The magnet holds the device to the undercarriage of a car, under the seat or in any other metal location.
Using GPS the device records up to 100 hours of driving data showing the vehicles speed, path, how long it stopped and more. Included software allows the data to be overlaid on a map and it connects to your computer via a built-in USB connector. The data can also be examined using Google Earth. The Driving Activity Reporter is available now for about $230.
GPS, Hammacher, Spy Gear