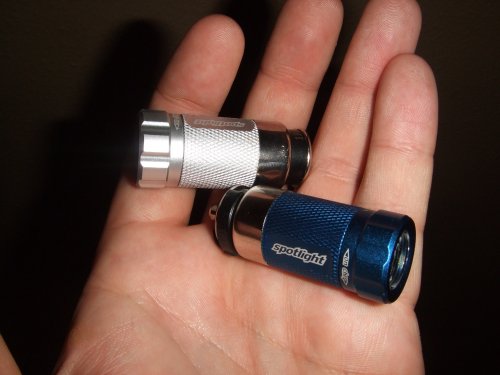 The tough guys over at Spotlight were nice enough to send us a few samples of their their small rechargeable 12V flashlight to try out for ourselves we have to admit that we were impressed. Now, the Spotlight has but only a couple features and is no new radical cutting-edge technology but we would consider it a gadget nonetheless. Also, its refreshing to see a very simple and useful gadget come across the desk from time to time.
The Spotlight is just like it sounds; it's a small flashlight measuring a mere 2 inches and weighing in at a svelte 1.8 ounces. What makes this little guy so handy is it's small size which is by no coincidence the same size as many automotive outlets. The flashlight alone fit in 4 of the 6 different car outlets we tried and emits a glowing red light to let you know it's charging. For those outlets that don't quite fit, Spotlight provides a small length adapter and a Super Socket adapter (separately) to allow it to fit just about any vehicle.
The Spotlight flashlight is a .5 watt LED pushing out around 25 lumens for as long as 3 hours or more according to the company. In our tests after a 24 hour charge we found them to give light for at least 3 hours but it was noticeably dimmer after 90 minutes. They come cased in an strong aluminum body in 10 different colors, all retailing for just under $20.
Flashlight, LED, Rechargeable, spotlight, Torch