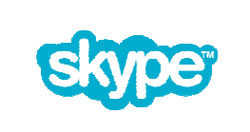 Skype has been around for a while and started out as a PC application that allowed users to call each other for free over the Internet. Later Skype gained the ability to call landline and mobile numbers for a per minute rate. Yesterday we mentioned that Skype was coming to the iPhone today.
Skype officially announced this morning that the application is now on the App Store for download. The app adds all of the features that users of the desktop application know and love including free Skype-to-Skype calls, the ability to call landlines and mobile numbers for a fee, IM, and a personal Skype number.
The only real catch is that to make Skype-to-Skype calls the user needs to be near a Wi-Fi access point. However, users can update their status and send or receive IMs from their contact list over any available EDGE, 3G, Wi-Fi, or GPRS network. Some mobile network providers in the UK are not allowing the Skype application to be ran on their devices, this has not been a problem thus far in America.
Apple, iPhone, Skype