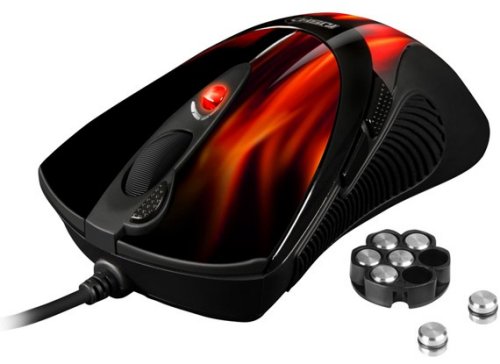 Weight-adjustable mice are nothing new, they just tend to get ignored. Sharkoon(The company that can't decide if it's a shark or a raccoon) is hoping that a fiery exterior will get your attention. It not only has the flame motiff, but the slug chamber looks like the chamber in a gun. Probably symbolic of you biting the bullet and actually buying one.
So to summarize, the Rush FireGlider has flames, a no-slip grip, a half dozen programmable buttons, maximum resolution of 3,600 DPI, Teflon feet for superior gliding and an internal tuning system to adjust its weight from 118 to 135 grams. Oh yeah and the bullet chamber thing.

It will cost you €25 or $32 to own one of your very own.
FireGlider, flame, gaming, mouse, painted, Programmable, Rush, Sharkoon