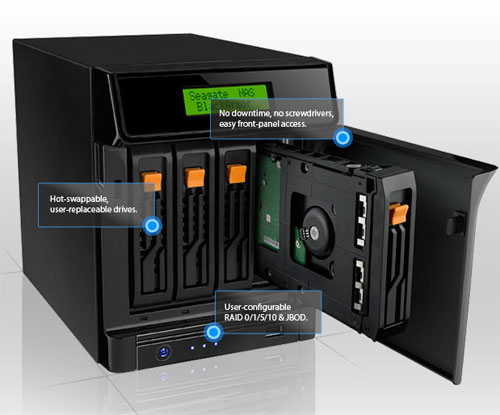 External storage is particularly important in the business world where the loss of data can mean the loss of significant money or important records that can't be replaced. For that reason businesses often spend lots of money on external storage solutions. Seagate has announced new NAS devices that are more affordable than the average solution.
The new products are in the BlackArmor line and include the NAS 440 and NAS 420 storage servers, which can support up to 8TB each. Both of the devices are four bay, hot swappable units that offer a centralized way to backup and secure data in a business or home. The NAS 420 ships with two drives installed with 2TB of total capacity. The NAS 440 comes with four drives installed and capacities up to 8TB.
The devices are compatible with all major operating systems including Windows and Mac OS X. An integrated LCD screen makes it easy to see system messages and warnings without having to go to a computer. The NAS 420 with 2TB of storage retails for $799.99 and the NAS 440 with 4TB sells for $1,199.99, a 6TB version goes for $1,699.99, and an 8TB version is coming in May for $1,999.99.
BlackArmor, NAS, Seagate, Storage