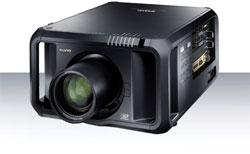 Projectors come in many different shapes and sizes. Each projector is aimed at a specific usage scenario from giving presentations in the boardroom or office to watching HD movies on a massive screen in the home. Sanyo announced its latest professional projector today that is appropriate for movies and more.
The projector is called the PDG-DHT100L and it offers full 1080p resolution. The single chip DLP projector uses a dual lamp system for increased light output when needed and has a user changeable twin color wheel system that increases color reproduction.
Sanyo says that the projector is compatible with its HD Data Wireless Transmission System as well for sending video output wirelessly to a TV. Light output can be up to 6,500 lumens and the projector has dual 330W bulbs. The contrast ratio is 7500:1 with image sizes ranging from 50-inches to 600-inches in size. Inputs include HDMI, DVI-D, mini D-sub, and S-video. The projector will sell without a lens for a whopping $21,995.
projector, Sanyo