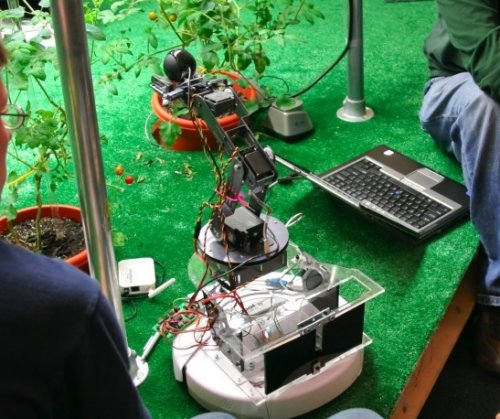 Robot gardeners? Students and researchers at MIT's Computer Science and Artificial Intelligence Laboratory have developed robots that actually tend to tomato plants, with no human intervention. The plants have soil sensors and can network with the robots, which is a great way of letting them know when they need water or nutrients. The robots are equipped with watering pumps and robotic arms that are gentle enough to pick cherry tomatoes without bruising them.
And so we enslave the plant kingdom with their new robot overlords. It's a great way to see how it works out with plants first. If you start seeing a bunch of squished tomatoes, plants blackened and burnt, and greenhouses that look like a hurricane hit them, than we will know what they have in store for us.

They "hope to develop a fully autonomous greenhouse, complete with robots, pots and plants connected via computation, sensing and communication." Pretty swell. Until they figure out that they can poison our food supply. Still we are talking fruits and vegetables, so the Vegans will be the first to go. When they start messing with junk food, I'll be next.
[Dvice] VIA [Botropolis]
gardeners, gardening, MIT, plants, robot, robotic, tomato