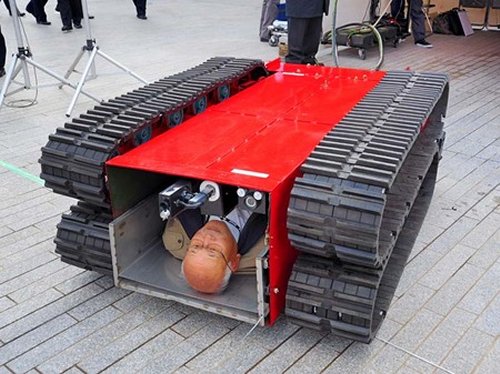 Check out the image. You tell me if that isn't the future of human burial. Robots will carry your corpse directly into your dirt bed, deposit you for your dirt nap and go get another rotting human vessel. It's probably how they will clean up our bodies when they inherit the Earth. But I digress.
This robotic crawler will soon to be inducted in Yokohama's fire department. It's designed to carry a human from the disaster zone to safety. In an earthquake rescue workers can load an injured person in the crawler and that person will be carried from the site to relief operations. It has four wheel belts and can easily move over rubble and other obstacles.

The onboard motor is powerful enough to carry a 110 kg person. The crawler will also constantly measure the patients blood flow and other vital signs. It can also be operated remotely in the night and harsh weather conditions thanks to infrared. Take a look at the size of the body it can carry. Sorry fatties.
Crawler, earthquake, japan, medical, robotic, safety