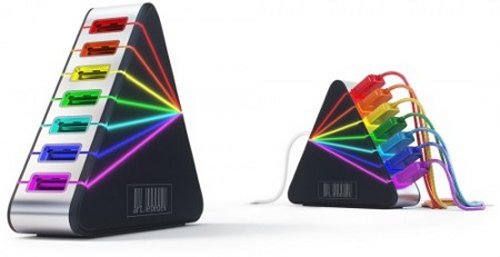 We're big fans of Art Lebedev around here, so when we saw this USB hub jump off of the Dark Side of The Moon album cover, we knew A)the water cooler had been spiked or B) This was yet another awesome Art Lebedev original.
We aren't sure what the deal is exactly, but it looks like it has some colored LEDS that make it look all prism-like. Hopefully it's not just colored on the outside. Either way, it's pretty awesome looking and makes us hear trippy tunes in our head.

Looking forward to buying one and joining that great gig in the sky.
Art Lebedev, dark side of the moon, hub, pink floyd, Prism, Rainbow, USB