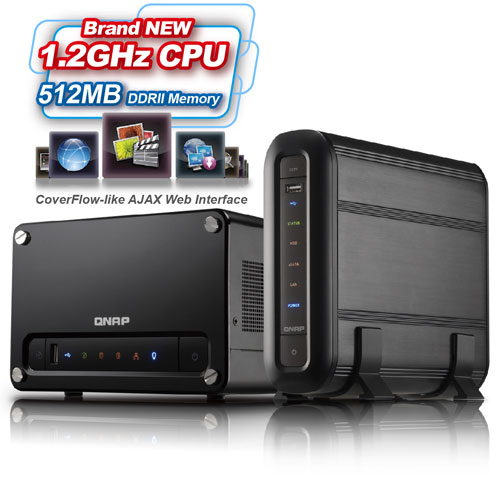 Anyone who creates media in the home or office from home movies or professional video needs storage that keeps the video safe and secure. The problem with some external storage solutions is that the devices are too slow to stream the video and writing large files to the devices can take a long time.
QNAP has announced what it claims to be the world's first iSCSI NAS devices with single and dual bays. The interface offers improved performance compared to many external solutions on the market. The TS-119 is a single bay NAS device while the TS-219 is a dual bay device. Both use a 1.2GHz CPU, 512MB DDR2 RAM and up to 8 iSCSI devices can be daisy chained.
The TS-119 supports up to 2TB SATA HDDs and can be expanded to 4TB with external storage added. The TS-219 supports up to 4TB with RAID 1, online RAID Capacity Expansion, and Online RAID Level Migration. Both of the devices also feature a CoverFlow-like AJAX graphical interface for easy use and configuration.
external storage, NAS