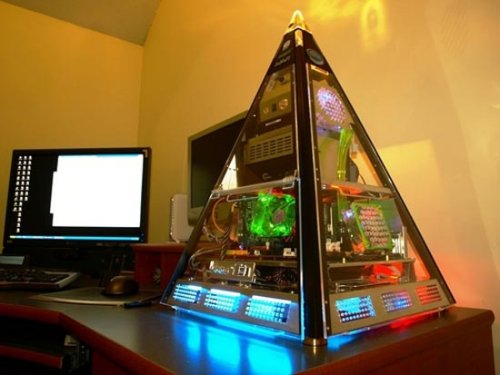 Or is it? No one knows for sure. But is man capable of such a feat? How could man have built such a thing using only primitive tools? It may forever remain a mystery. One theory is that the Great Pyramid PC Mod was made by modder polo360x from the Techpowerup forums.
The amazing case was made from a customized Luxor Pyramid case, which itself was made from laser cut aluminum, and is a combination of black and silver aluminum. The base measures 19 by 19 inches and the case stands 25 inches tall. Some specs: CPU: Q6600 B3 OC @ 3.15 GHz (Max stable OC @ 3.4 GHz) – "water cooled", Mobo: GIGABYTE GA-EP35-DS3L, RAM: G-Skills 4GB PC2-8000 OC @ 1066 MHz, GPU: 512 MB 8800GT Zotac AMP Editions (700 MHz Core/ 2000 Mhz Memory), HDD: 500 GB Cavier WD 300 SATA, PSU: 500 Watts Rosewill, Cooling: Thermaltake Tide water plus w/ Swiftech apogee GT CPU block.

Amazing pc case mod. Surely man is not capable of such precision in laser cut aluminum.
case, custom, DIY, great pyramid, mod, pc, pyramid