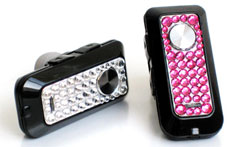 Most of the Bluetooth headsets that you can get for mobile phones on the market today are black or silver things that look like they were designed for guys. There are a few Bluetooth headsets around that are pink or look like something women would like, but not many.
A company called ChicBuds and announced a Bluetooth headset specifically for women called the PinkTooth headset. The device connects to any Bluetooth-enabled phone and is good for 200 hours of standby time and six hours of talk time.
The internal battery is a lithium-polymer rechargeable. The appealing part for ladies looking for something sparkly is that the headset can be had with white or pink Swarovski Crystals adorning it. The headset is also packed inside a "cute" candy tin. The PinkTooth headset retails for $49.99 and is available now.
Bluetooth, mobile phone