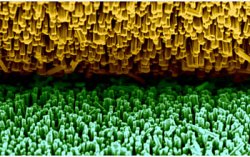 A world where gadgets are powered by blood? It could happen sooner then you think. It won't be long until our gadgets are full fledged living entities soon after that. Maybe. In a not too distant future Piezoelectric nanowires may reside in our blood vessels. They would use the energy created by blood flow to power gadgets. Stuff like pacemakers, iPods, anything designers can dream up really.
It sounds pretty amazing, but the reality is that it may cause some sort of new diseases in our bodies or make us more susceptible to them. These things never work out the way you think. If it happens at all, it won't be for a long long time hopefully.

Right now it's not practical.
Image from [NSF]
biology, blood, gadgets, Health, pacemakers, Piezoelectric Nanowires, Science