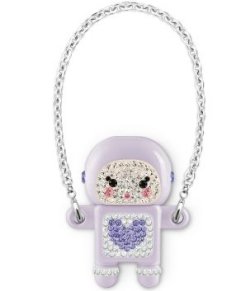 For those of you who like crystals and cute robots playing jump rope, meet Robot Dreamy Tina. She's the newest member of the Philips Active Crystals line from Swarovski. She joins her blinged out robot relatives Robot Happy Laura and Robot Naughty Raymond.
Perfect for robot-loving geek girls and can be worn as a pendant or charm. It will store up to 500 songs or 2000 photos with its 2GB capacity. The LED ears light up as data is transferred.

All this cute feminine bling will cost you $180.
Active Crystal, crystals, Dreamy, Philips, robot, swarovski, Tina, USB