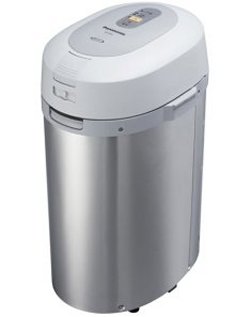 Panasonic gets all green with its RISAIKURA MS-N53 recycler device. The device relies on a special platinum-palladium catalyst to break down up to 2kg of organic garbage into compost with the help of some heat. It's great for those with gardens as you'll be able to use the compost in your garden.
Panasonic is making some big claims as to the quality of their compost. According to them, the created compost is superior to store-bought fertilizer. The Panasonic RISAIKURA MS-N53 recycler has a few settings to choose from, depending on how dried out your garbage is, ranging from three to six hours. The shorter option will give the compost more protein, while the longer option is more suitable for long-term fertilization of trees.

Creating compost isn't cheap. It will cost you $881 for the Panasonic RISAIKURA MS-N53 recycler when it hits Japan next month.
compost, garden, Home, MS-N53, Panasonic, Recycler, RISAIKURA