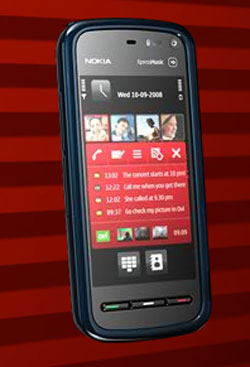 When it comes to new phones Europe tends to get them before we do here in America. One of the handsets that was introduced a while back in Europe is the Nokia XpressMusic 5800. The handset didn't do as well in Europe as Nokia wanted when first launched and the company has now announced that it will be offering the handset in America.
The 5800 will retail for $399 before taxes and subsidies. Nokia hasn't announced what carriers will be offering the device at this time. The phone will also include a $50 certificate for Amazon's Video On Demand service.
Features of the phone include a 3.2-inch 640 x 360 resolution screen that is touch0enabled. The device measures 4.37″ x 2.04″ x 0.61″ and weighs 3.84 ounces. In addition to navigating with a finger, the screen also supports stylus navigation. Runtime is promised to be 8.8 hours on GSM networks and up to 5 hours on WCDMA networks.
mobile phone, Nokia, XpressMusic 5800