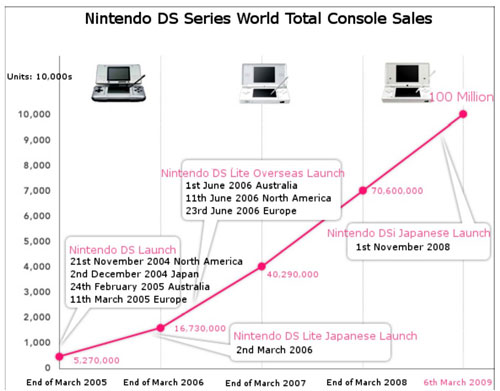 When it comes to pure portable gaming consoles there are two choices — the Sony PSP and the Nintendo DS. You can play games on other devices on the go, like the iPhone and iPod touch, but the DS and PSP are the only dedicated portable gaming systems.
Nintendo has announced that it has now shipped 100 million Nintendo DS consoles since the systems were introduced. The original DS launched in 2004 and offered dual screens and voice recognition, something not offered on other portable consoles.
The popularity of the DS console has pushed sales of software for the device as well says Nintendo. As of December 31, 2008, there were 83 different titles available for the DS that shipped 1 million copies globally. Nintendo will be launching a new portable console next month called the Nintendo DSi that is expected to be popular.
DSi, Nintendo DS, portable game console