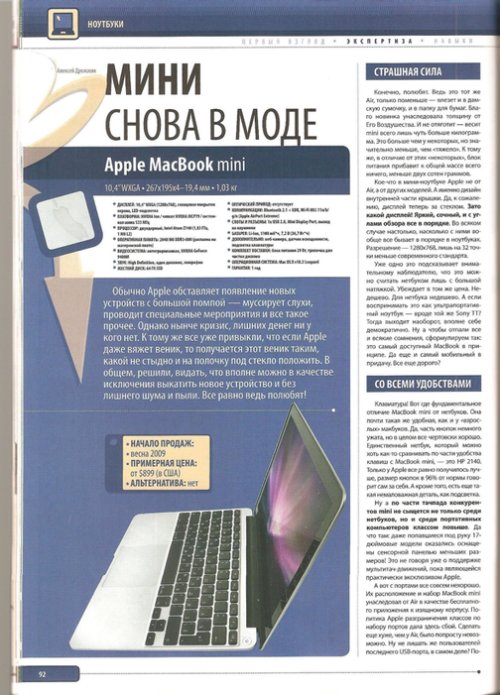 We have no idea if this is a for real new Mac Mini or just someone's wishful thinking. All we know is that we really really want it to be true. Could be a concept, a leak, or just a fake. Regardless, it is a thing of beauty. According to a 9to5 reader, this image came from the inside of a Russian magazine.
We don't speak Russian, so we have no idea what it says. If you can decipher it, let us know. It's probably fake, because it looks TOO beautiful and the specs are too good as well.

Some specs include: a 10.4″ WXGA display, 1280 x 768 pixel with LED backlighting, NVIDIA MCP79, Intel Atom Z740 1.83GHz with 1MB L2 cache, 2GB DDR3-800, NVIDIA GeForce 9400M, 64GB Solid State Drive, Bluetooth 2.1 + EDR, Wi-Fi 802.11a/b/g/n, 1 x USB 2.0, 1 x Mini Display Port, Battery Li-Ion 5100mA. If you can believe it, it will arrive this year for $899.
Apple, concept, leak, Mac, mini, rumor