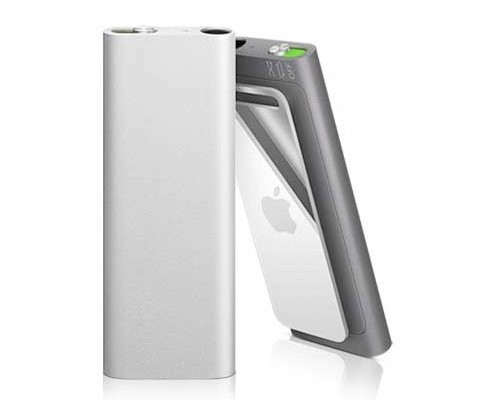 The new voice-enabled iPod shuffle. It's like Stephen Hawking is there to guide you through your songs in between constantly touching your earbuds wire. I'll be honest, I think it's a lame move. A gimmick. One designed to get more money out of the consumer and give you nothing extra.
It has a standard 3.5mm headphone jack, but it's controlled by proprietary headphones. Non-Apple headphones will require a special adapter that includes the required three-button controller. According to Apple they are working with third parties to put other compatible ear phones on shelves.

It's Apple's cheapest iPod. Why make it so complex and extra expensive if you want to use your own earbuds? No word yet, but the adapter will likely cost between $20 and $30 like most other Apple accessories. That means it will cost you a minimum of $100. See, this is the kind of thing that makes some people Apple-haters. For the money you lay out, so get very little. Then you are encouraged to upgrade to the next thing that errs on the side of small storage and large price. Maybe I'm wrong, but I think they really messed up on this one.
adapter, Apple, Earbuds, Headphones, iPod, Shuffle, third-party