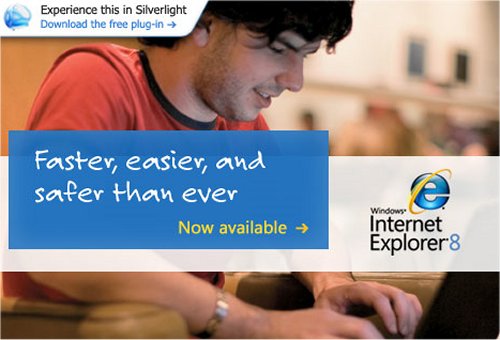 Microsoft has released Internet Explorer 8, its latest version in the browser battle. This latest version comes loaded with a set of new features designed to make browsing the internet more convenient, fast and secure. The latest IE browser is also the latest blow to rival Mozilla's Firefox in the quest for online browsing dominance.
Microsoft added a number of security features to IE8, such as increased protection against malware, cross-site scripting attacks, click-jacking, and protection against installing malicious Active-X controls. In addition, they've added an InPrivate browsing mode which will track no history of your browsing activities, negating the need to delete the history after the fact.
Microsoft has updated the UI of the browser significantly to make browsing faster, more convenient and more organized. Features like color-coded browser tabs for grouping pages, the ability to recommend sites to others, a visual search results feature, and a nice on-page text search tool are welcomed additions, especially to anyone that spends a significant amount of time researching on the internet. Bringing up a new tab will show links to common sites for convenient access.
Probably two of the most significant feature additions that Microsoft spent time on with IE8 are Web Slices and Accelerators. Accelerators are built-in tools to let users search, translate text or handle mapping inside through window inside the current browser window. Web Slices let users create a favorites link that will bring up a small, pre-defined version of the website. This feature must be implemented by the owners of the individual web sites as well, in order to work.
One other significant addition to Microsoft's latest browser is the standards support. Standards support has long been an issue with the IE browser, causing web developers to often make two versions of parts of their websites so they will run correctly in IE and in other browsers. IE8 has a button to tag and remember which websites require which standards support, allowing Microsoft to keep their own standards while allowing IE8 to show all sites correctly.
Internet Explorer 8 is available now in a multitude of languages for Windows XP, Vista and Windows Server. Mac users will have to wait.
Browsers, IE8, Microsoft, Web Browsers