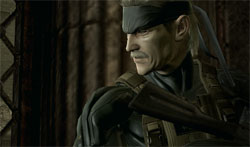 One of the games that drove me to buy my first Sony PlayStation was Metal Gear Solid. I really liked that game, though I didn't find many of the sequels to be as much fun as the original. One of the hallmarks of the Metal Gear series was that it was a PlayStation exclusive game.
Konami has taken the series outside the Sony fold and is now offering a new title called Metal Gear Solid Touch for the iPhone and iPod touch. The game is available now on the App Store for $7.99. Konami says that the game has been redesigned to take advantage of the controls used on the iPhone and touch.
The game promises to cover the final chapter in the saga of Solid Snake as players join Snake as he fights mercs, Haven Troopers, Gekko, and the bosses of B&B Corps. Overall, the game has 20 different levels and Snake gets to fight with short and long-range weapons. The game sounds cool to me.
app, Apple, game, iPhone, Metal Gear Solid