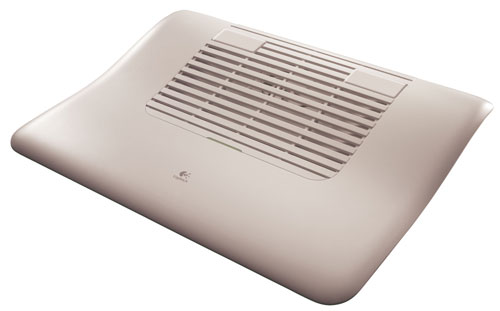 When it comes to notebook accessories and computer peripherals Logitech is one of the biggest names in the market. The company has all sorts of products from mice and keyboards to laptop bags and gaming controllers in its catalog.
Logitech has announced a couple new laptop accessories that are intended to make working on a laptop more comfortable. Many laptops put out a lot of heat, which can make working with the laptop in your lap uncomfortable. Logitech has announced a new product called the Cooling Pad N100 that has a slotted design and a USB powered fan designed to keep your computer cool. The device has rear intake vents rather than bottom vents that can be blocked and it will be available in March for $29.99.
The other new Logitech offering is the Notebook Riser N110 that lifts the screen of your notebook for comfort. The N110 has a swivel base with a rubber coating for grip and can be adjusted through three different angle settings. Angle adjustments include 20, 30, and 40-degrees. The N110 will be available in May for $29.99.
laptop, Logitech, Peripherals