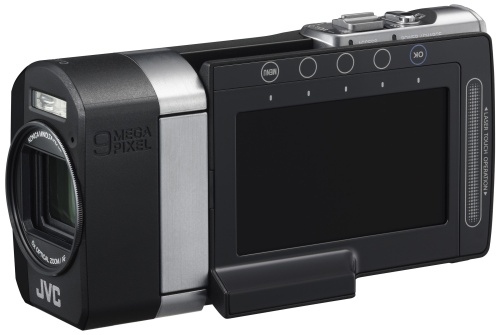 The tech wizards over at JVC have on their hands today a new dual-use camera that shoots high definition video and high resolution digital still images. It is part of the company's Everio line up and will cost around $1,000 when it debuts in June.
The JVC GZ-X900, or Everio X, is a all-in-one digital camera weighing around 0.66 pounds. It is capable of shooting both nine-megapixel digital pictures and also 1920 x 1080 Full HD AVCHD video. These digital media captures are recorded to SDHC memory cards.
Highlights of recording features on the Everio X include 10x slow motion shooting that plays back 2.4 seconds of recorded video over 24 seconds, up to six nine-megapixel stills that can be shot at 15 images per second and simultaneous five-megapixel digital still shooting while recording HD video.
Camcorders, JVC