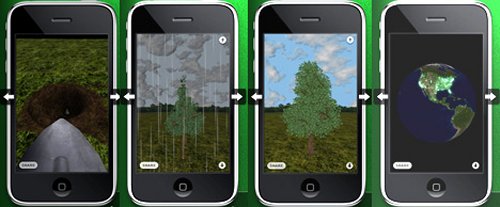 This is a pretty neat application. It allows iPhone users to plant a virtual tree from their phone while simultaneously activating the planting of a real tree. Originally showcased at TED, the app is now available to the masses on iTunes.
The real trees are planted by the Conservation Fund, and they will begin with the restoration of a vulnerable wildlife habitat along the Gulf Coast. It's sponsored by Ecolife Apparel, makers of cotton "green" underwear, and was developed by iPhactory.

The app makes you grow and care for your virtual tree, which includes such features as shaking the phone to create a rain shower. When the virtual sun shines the tree begins to grow. If you want a forest full of trees, click on the shovel to plant more.
If you want wood, click on the logger icon and they will come and murder your tree in the name of Ikea and Walmart. Alright I made that last part up, but that would be pretty messed up.
app, application, eco, environment, Green, iPhone, iPhorest, iTunes, Plant a tree