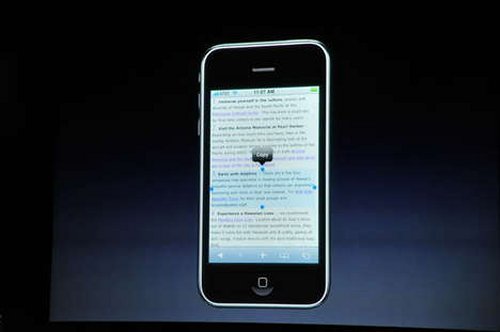 At frakkin last! Cut and paste. Apple fans have something to be happy about this afternoon with the news of the iPhone 3.0 update. The new OS delivers a number of features Apple iPhone users have been waiting for since the iPhone's launch.
It adds features like cut and paste, turn-by-turn navigation, MMS, 3G tethering, shake to shuffle music, voice memo application. And a whole lot more too. There's peer-to-peer Wi-Fi connectivity, maps inside other applications, a rumbling for games, and even audio recording.

The new Spotlight will allow you to search across all of the information on your device, no matter where. If an application is written to support the new Spotlight, its data will also be available in the search. Hit the link for more good stuff.
3.0, 3G tethering, Apple, cut-and-paste, features, iPhone, MMS, OS, shake to shuffle music, spotlight, turn-by-turn navigation, voice memo