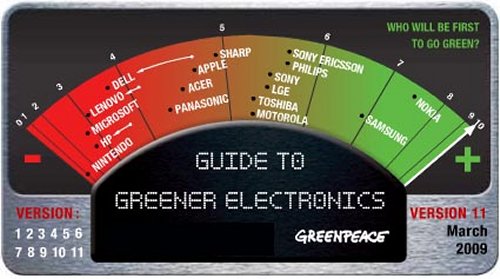 In previous reports from Greenpeace, HP, Lenovo, and Dell haven't done very badly, but the trio has failed to meet Greenpeaces expectations this time. They made promises they could not keep. All three had promised to eliminate PVC and brominated flame retardants in their products by the end of this year, but now they will apparently not be able to meet that deadline.
The only one to offer up a new deadline is Lenovo, who says they will now do it by the end of 2010. On the other end of the spectrum, Philips has jumped from 15th place to 4th, largely due to new recycling initiatives.

Nintendo is dead last. Again.
Dell, greenpeace, HP, Lenovo