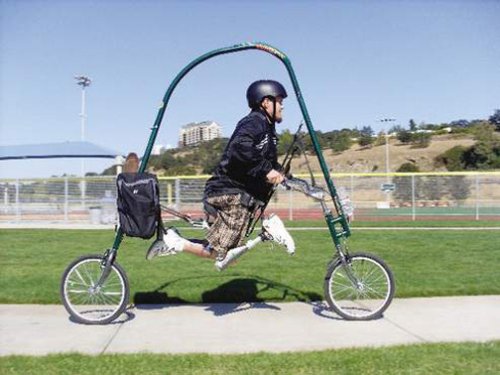 Those of us not handicapped take running and bike riding for granted. Sadly, handicapped individuals can not participate in either activity. But the GlideCycle might let them do what they've only dreamed about. Check out a video below.
The GlideCycle can be powered with just one leg, or even two disabled legs. It was developed in Oregon and is great for those who are overweight, disabled, amputees, and even non-disabled people. It's basically a large U with wheels and a seat that lets anyone exercise outdoors.

Disabled individuals everywhere seem to be singing it's praises. Any device that lets an amputee run as if they had two feet is good by us. It's a great invention that actually makes the world a better place one ride at a time.
Thanks Tina
bike, disabled, GildeCycle, handicapped, run, vehicle