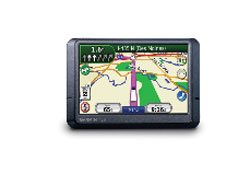 I really like GPS devices and have owned several of them over the years. GPS is much better than having to stop and ask directions or having to listen to the wife tell me I need to stop and ask directions. I always figured that the big rigs on the road had built-in GPS, and I am sure many do.
Garmin has announced a new GPS device for long haul truckers that may make some want to upgrade even if their rig has GPS built-in. The new nuvi 465T is a GPS device that allows truckers to put in the length, width, height, and weight of their truck along with cargo type and the GPS device will find routes that the truck can safely and legally take.
The 465T also allows the driver to make routes that includes multiple stops and offers free lifetime traffic updates in many major metro areas. The screen of the GPS is 4.3-inches and has 3D and 2D map views. Speed limits for most major roadways are provided and the device has built-in Bluetooth for hands free calling. Availability is set for Q2 2009 at an MSRP of $499.99.
Garmin, GPS