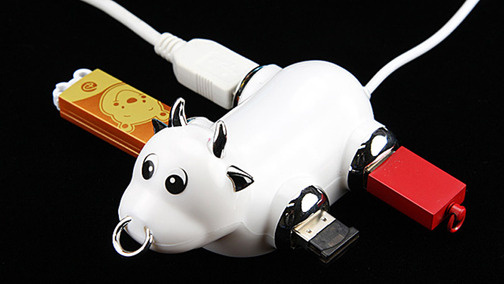 What the #%$$@ was the manufacturer thinking? There is no scenario in which this USB hub is even remotely normal on your desk. I guess if you like to torture cows by sticking flash drives in them, you might take a shine to it, but mostly it's just wrong.
I guess it could have been worse. The cow could be standing and have a bunch of flash drives as udders. Maybe you have to coax them in so it looks like you're milking the beast. Damn. I think I just gave them another idea. Seriously old Bessie here looks like she's begging for a bullet to put her out of her misery. Poor thing.

Who would buy this? Really.
bizarre, Cow, gadget, hub, USB, weird