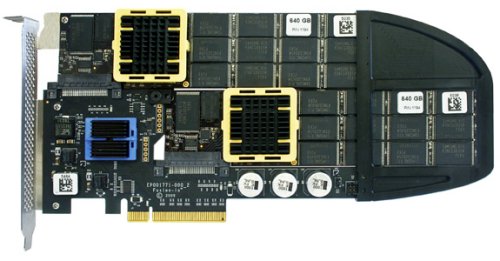 Fusion-io is famous for producing the world's fastest and most expensive SSD solution. Now it has another blazing fast innovation that should have you drooling in no time. The ioDrive Duo is hailed as the fastest and most innovative SSD on the planet thus far.
The server-based PCI Express SSD is aimed at enterprises who can and will pay more for vast quantities of lightning fast storage space. So, what's the speed? 1.5GB sustained read speeds and 1.4GB sustained write speeds. Say it with me. Wow!

It doubles the slot capacity of the company's PCI Express-based ioDrive, providing solutions in 160GB, 320GB, 640GB and 1.28TB sizes. The whole lot can sustain 1.5Gbytes/sec of read bandwidth and nearly 200,000 read IOPS, with sustained write bandwidth measuring in at 1400MB/sec and latency under 50 µsec. No word on price, but it would be way way up there. Thousands. Tens of thousands. Twenties of thousands.
flash, Flash Memory, Fusion-io, Fusion-ion, Iodrive duo, pci, solid state drives, SSD, Storage, worlds Fastest