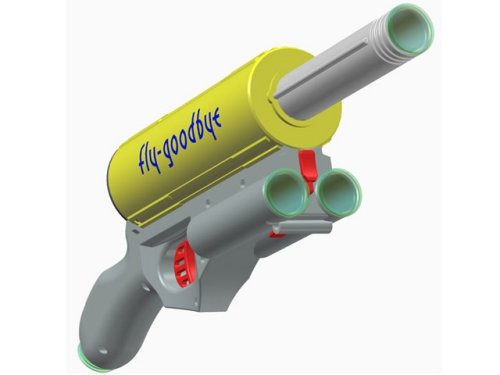 If today's beautiful weather was any indication, spring is finally here. Sadly, the bugs have arrived with it. The fly-goodbye will keep their population down and keep your magazines insect-gut free. Just insert the front tube that has some glue at the bottom, give it some pump action and fire.
If you are skilled enough that buzzing sound will cease and the fly will be trapped in the tube with glue. Brilliant. It's like an insect carbonite freeze. It works more like a vacuum that sucks the fly in when the trigger is pushed, and you have to be about 1 to 3cm away from the pest, but still. Pretty nifty way of killing some insect game.

Extra glue tubes are also stored in the Fly-Goodbye. It should start shipping in May and will retail for about $30.
bugs, exterminate, Fly-Goodbye, insects, pistol