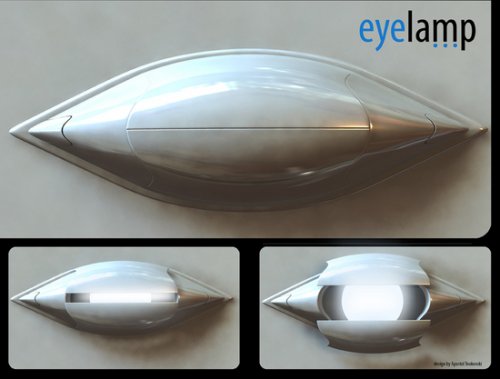 This eye lamp is creepy in a Sci-Fi, the-wall-is-alive kind of way. It's the kind of functional wall art that will have you waxing philosophic. Are you looking at your lamp or is it looking at you? And if the eye lamp is closed so that it can't see you, do you still exist? Mostly this concept lamp is just cool as hell and unsettling. It's made of polished metal and shines light when it's open.
It's the kind of thing that Gods speak to people through. Will it require a sacrifice? What bad things will it make you do, so that it may join the world of the living? The all seeing thing even has a dimmer light, which is just the "lids" closing partially. And that just makes it looks creepier.

What is thy bidding eye master?
concept, creepy, Eye Lamp, eyes, Home, lighting