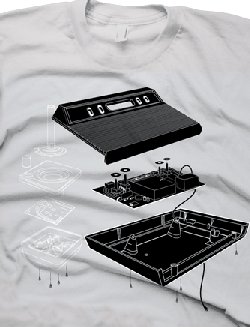 This Exploded Atari 2600 shirt is all kinds of awesome. It illustrates disassembly perfectly for any geek who thinks that the Atari 2600 is somehow full of tons of parts and hard to take apart.
We recommend wearing it while doing such mods as the Atari-Hero, or the Multari. You can't have too many geek shirts after all. Even when you run out of drawer and closet space. That's what your floor is for, right? It will only cost you $17.

I have the feeling we are going to see consoles exploded on shirts very soon.
Atari 2600, awesome, console, Exploded, geek, shirt, T-Shirt