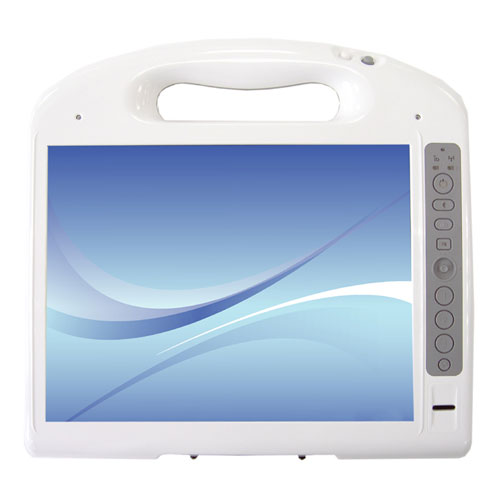 When I was a kid, my doctor's nurse would always bust out of the door to the exam room with an arm full of paper folders with all my medical records inside. More often than not she gave the doctor the wrong folder resulting in more agonizing wait time before I found out if I had to get a shot or not.
Today when I take my son to the doctor the nurse comes out with a small tablet computer in hand with access to all the medical records in the office. A new rugged tablet computer for health pros has been launched by GammaTech called the Durabook RT10. The machine is fully rugged and can withstand drops of up to four feet and features Intel Health technology.
The machine can withstand humidity levels of up to 90% and as low as 10% without issue. One very import feature for the healthcare setting where germs are a big problem is that the machine is fully sealed and can be sanitized with alcohol, bleach and other cleaning agents. Hot swappable batteries each with 5 hours of runtime mean the system can work continually and an optional RFID reader can be built-in as well. The little tablet weighs 3.3 pounds.
Healthcare, Intel, Rugged Comptuer, Tablet PC