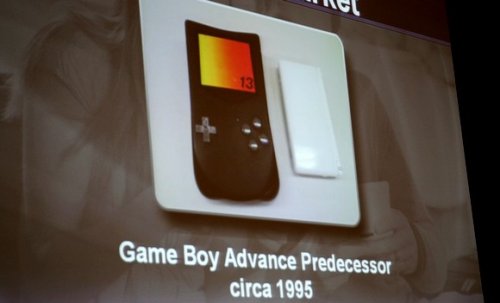 Today at GDC09, Masato Kuwahara, project leader on the development of the Nintendo DSi, gave people a first-ever glimpse at two Game Boy spin-offs that never were. The first a is hefty predecessor to the Game Boy Advance; the second a touch-screen GBA SP.
Kuwahara says that the unnamed Game Boy Color successor was in development in 1995/96 and based on a 32-bit ARM RISC processor. The second, more recent R&D project was essentially a Game Boy Advance SP with a touch-screen over its flip-up display. The guts of the unit were actually from a Game Boy Color. It "was not well received" by Nintendo management.

Why not? It wasn't backlit and the touch overlay made it even darker. Shigeru Miyamoto evidently liked the general concept, however and it may have influenced the eventual development of Nintendo DS.
architect, DSi, handhelds, Masato Kuwahara, Nintendo, unreleased