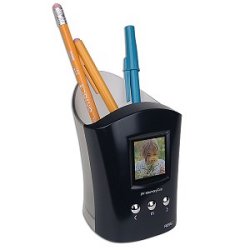 There's nothing like having pictures of family close by to remind you of your loved ones. The Memory Cup Digital Photo Frame Pencil Cup/Desktop Organizer is a great combo desktop item that will keep your loved ones nearby at all times.
And if they do something to piss you off, just display their head and pretend that you're jamming a pencil in it. Then repress that anger when you head back home. Ain't life grand? It has a 1.5″ LCD screen to display all your favorite photos and will store your pens, pencils, erasers, and paper clips. It connects via USB to both PC's and Macs and can hold up to 70 pictures.

It will cost you $22.99.
digital, frame, pencil cup, photo