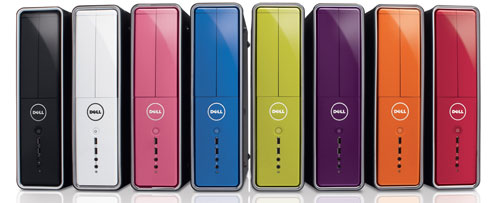 Dell first started out as a maker of computers that users could customize with the exact hardware that they desired. Dell made its name on the customization options it offered buyers. More recently, Dell has been letting shoppers customize not only the hardware inside the notebook or desktop, but has been offering custom colors and designs on the exterior of the computer as well.
Dell has announced new Inspiron desktop computers called the Inspiron slim and mini-tower. The new machines can be customized with eight different colors that completely cover the front panel of the computer. Dell says it is the only major computer maker allowing users to color customize a desktop computer.
The colors offered include Piano Black, Pure White, True Blue, Formula Red, Tangerine Orange, Spring Green, Plum Purple, and Promise Pink. Features of the computers include a selection of Intel and AMD processor, integrated graphics or discrete ATI video cards, up to 8GB of RAM, and up to 750GB of storage. The mini-tower can also have a Blu-ray drive. Prices for the machine starts at $299 and the machines will be available globally this spring.
Dell, desktop, Inspiron