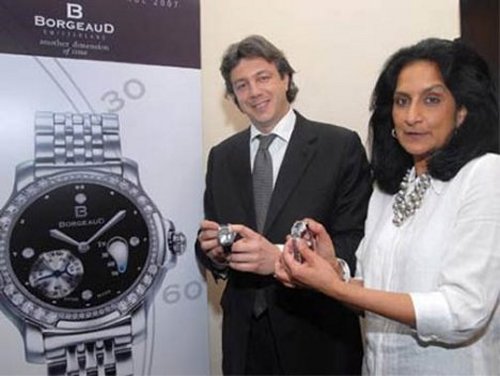 Remember mood rings? Even if you aren't old enough, you've heard about them. Yeah, this is like that, only geared toward rich idiots. This watch is timekeeping merged with fortune telling. Swiss watchmaker Borgeaud has gone all superstitious and teamed up with Indian fortune tellers to craft a watch that will foresee the future.
Whenever things are about to take a turn for the worse in your life, that kidney-shaped section on the watch will turn brown. (Many people do this same voodoo with their underwear. Though unknowingly) The Borgeaud site states that "the watch automatically displays a daily 90-minute period called the Raju Kaal, which is believed to be a terrible time to make important decisions or start new projects." Once the dark forces have left, the watch will then return to its normal color.

They are only producing 650 pieces, since they think that's the maximum number of rich idiots they can rope in at a cost $2,000.
Borgeaud, Clairvoyant, foolish, fortune telling, rich, watch